Getting your business card to stand out is a task as old as business cards themselves (fun fact, they date back to the 17th century in Europe. No one wants their business card to blend in with the competition. Designing a unique business card can be the key to your success! It's crucial to have an eye-catching business card that stands out and gets you noticed.
Business cards that are creative and stand out aren't only sticky and memorable, but they get shared with more and more people, continuing to promote your business and brand – Ahmad Kareh
Whether you're wanting a standard or unique look, we've listed some popular recommendations and creative business card ideas to take your next card order to the next level.
1) Rounded Corners
When it comes to first impressions, something as simple as chopping off those sharp edges can really set your card apart from the standard rectangular shape. It's easy to create a memorable look with rounded corners. Select all four corners or just two corners with the following options;  large (1/4″ round) and small (1/8″ round). This is a quick and easy way to give your card a softer, modern, and more approachable look.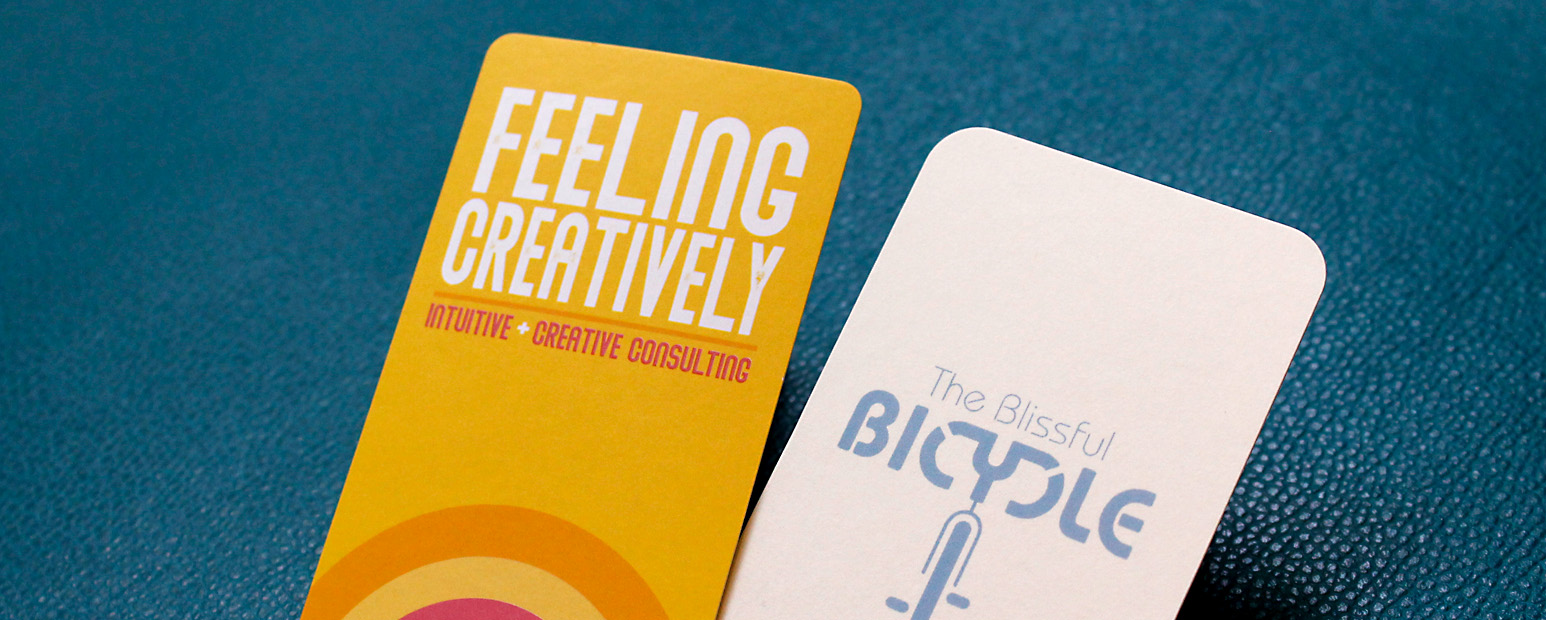 2) Thick Card Stock
When you think about the word thick, what comes to mind?  Stability and strength? We agree. There is power in thick card stock, and this type of business card can't be ignored. Twice as thick as a standard business card, they're a great way for you and your business to stand out and get noticed.
We offer two types of ultra-thick business cards, both printed on 32PT thick uncoated card stock. The ModCard which contains three layers of card stock with a black center layer for a distinctive look. These cards feel indestructible and make a powerful first impression.
Majority of business professionals agree that there's nothing more undesirable than a flimsy business card.
3) Edge Painting
Add power to your punch with the latest trend in business card design, edge painting. Card stock with a wider edge is able to hold color and giving your card a dynamic look. With 15 colors to choose from you can showcase your creativity and playful personality. A painted edge business card yields positively eye-catching results that are hard to ignore!
4) Spot UV and Foil
Spot UV is a commonly used feature that can give your card a striking boost. With this feature, you can highlight specific areas of the design of the card including logo, photo or even as a blind pattern to create highlights, contrast, and dimension. By rotating and turning the card, you can see the specific areas where the clear varnish applied. The Spot UV coating really adds a significant WOW factor.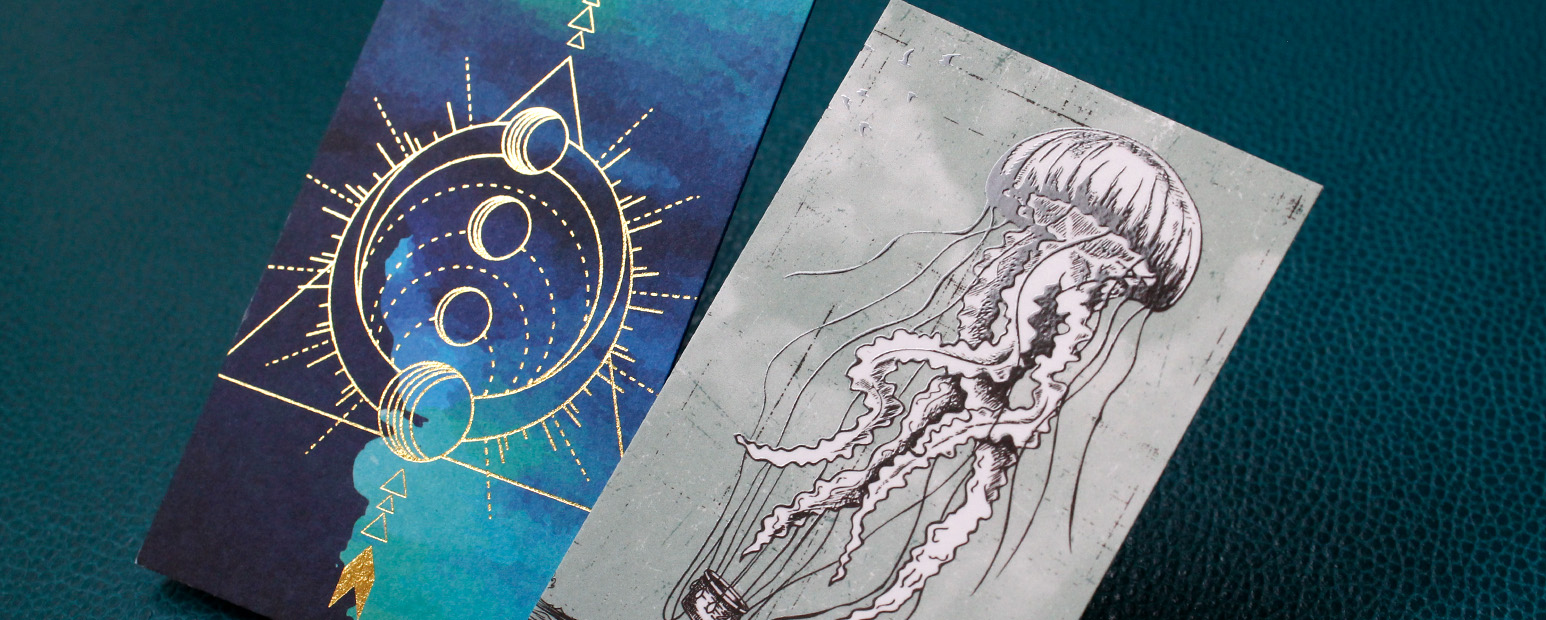 Adding Inline Foil or Stamped Foil provides a similar effect. Adding Stamped Foil, it gives your cards a shiny and incredible look to the areas selected to receive the Metallic Foil. You can choose from ten spectacular colors including gold, silver, and rose gold.
If you're looking for a foil option that allows you to use more than one color, Inline Foil is a great option. You can select from unlimited foil colors to create a unique business card.
Video: Inline Foil Color Swatch
5) Silk Lamination and Velvet Lamination
Something that always sets a card apart is how it feels. The texture of your business card and how it feels in the recipient's hand can make them immediately take notice. Adding silk or velvet lamination not only gives your card an incredibly soft texture but it elevates your presentation.
They also provide an added benefit of increasing the durability of the card. The lamination helps prevent the card from chipping and cracking along the edges. Silk and velvet lamination are great options when leveling up how your business card feels.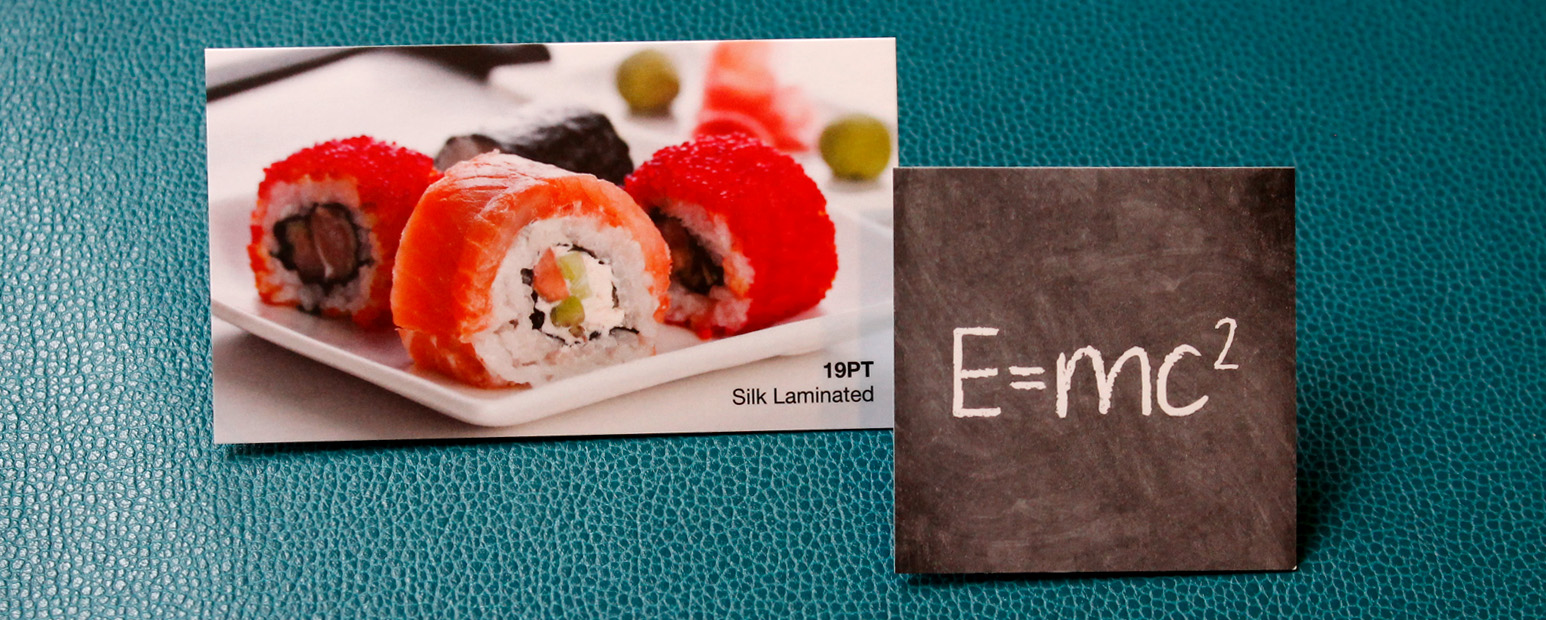 6) Raised Spot UV, Raised Foil & Holographic Foil
These recent additions to our Primoprint's arsenal of options can take your cards to new heights – literally! Raised Spot UV lifts the Spot UV off the business card and gives it an incredible three-dimensional feel.
Raised foil (50-micron raised foil) has the same three-dimensional quality but with a shine that can't be ignored. You have the option to select from silver and gold foil. Last but not least is the Holographic Foil business card…well the photo above just speaks for itself.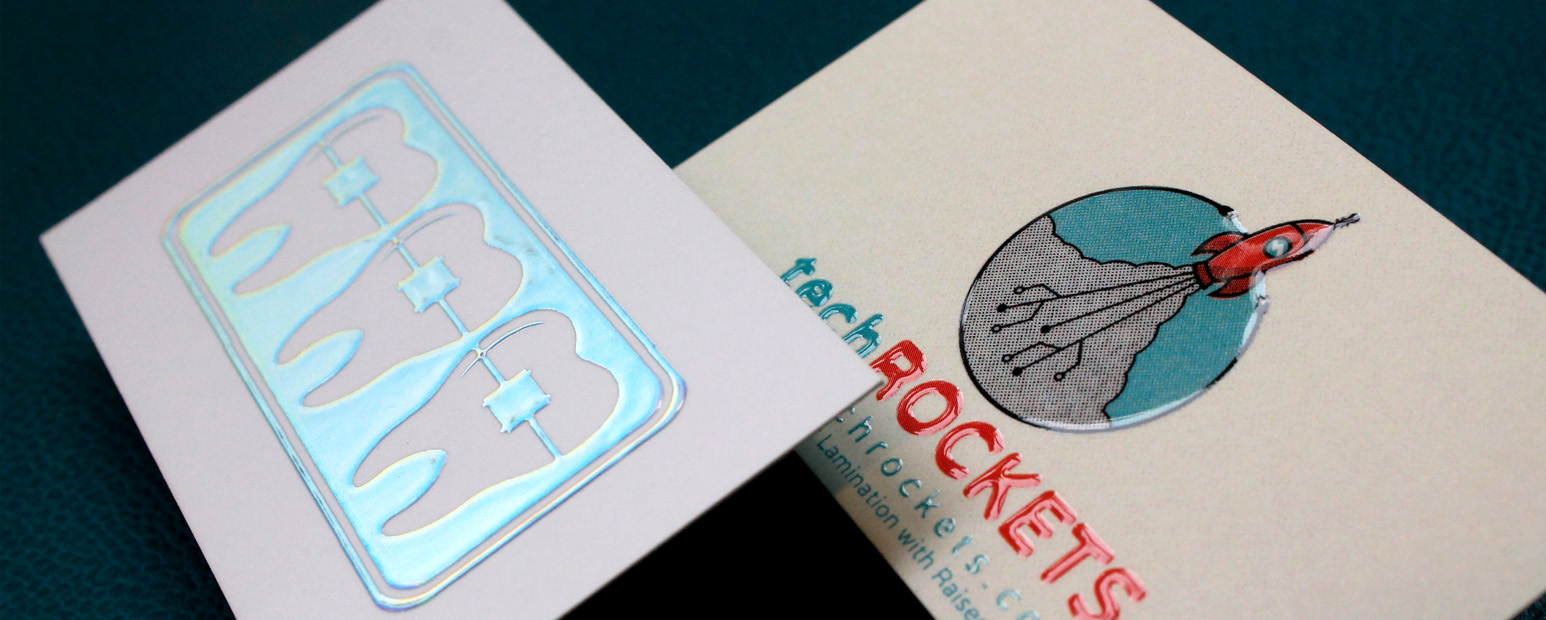 Don't leave your marketing to chance; stand out by using these unique finishes and have your potential clients talking about you!
Not sure which option is best for you and your business? Request a free sample packet. Don't take our word for it, you'll be able to see and feel the high quality of our most popular products, paper stocks, and finishes for yourself.
Not sure where to start? Don't worry, our graphic design team will be happy to help you create a one-of-a-kind custom business card. Complete our design form.
Holographic, Silver and Gold Foil Video
Additional Business Card Resources: