Starting a small business can be exciting and also terrifying. But, it's an exhilarating adventure many crave! That's why it's important to get off and running with all of the correct materials. Along with digital marketing, you'll need plenty of printed marketing communications to reach an audience. Your prospective clients or customers will consider you to be a credible resource if you can exist in both the print and digital worlds.
What print materials do you need to start a new business? We've listed the leading print materials that we recommend. Regardless of the industry or market, the following marketing materials for your small business can be helpful.
Custom Logo
Having a business logo is extremely important. It's not the first thing you think of when starting a business, but it plays a pivotal role. The logo is all about your business. It brings together the business's identity and values and is necessary for all your small business's marketing materials.
It's essential to have your logo created before you dive into any other marketing efforts, so you are ready to develop branded materials.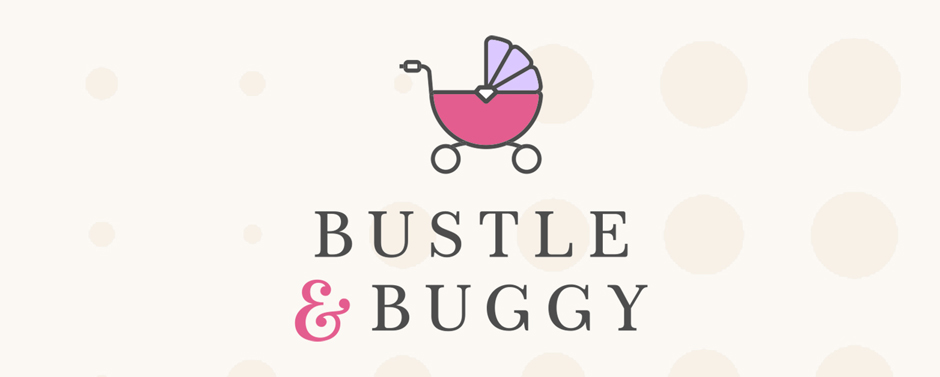 Creating a logo can be challenging, but it doesn't have to be. A seasoned graphic designer can help bring your vision to life. You can work directly with our designers to create the perfect logo in no time!
A well-designed, custom one-of-a-kind logo can be applied to every promotional piece and the digital element of your business.
Business Cards
Let's start with the most critical item. It's a business card. Sure, it's the smallest, but it continues to be the most effective print material for any business.
For example, when packaging an order, you can easily include a business card sent out to your customers. It allows them to keep your business on their minds, but it adds a personal touch to the product transaction. Include a unique coupon code for customers to use in the future.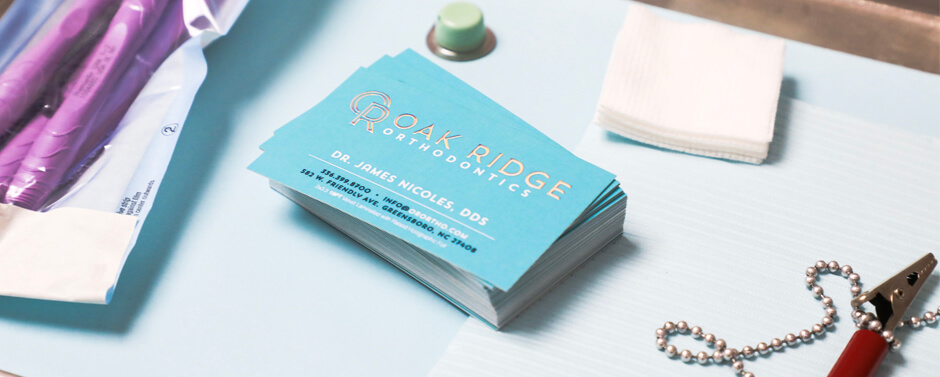 Not only are they ideal for handing out to prospects or use while networking, but a business card can also be used as jewelry backer cards and enamel pin backers. There are plenty of creative ways to incorporate your business card.
When creating your business card design, take time, and think about how you can use them. Are you attending a specific trade show? Will you have a promotion pushing a product or service. Create a particular business card for the tradeshow. Include a QR code directing potential customers to a landing page with a call to action, allowing them to receive an incentive such as a free trial, instructional video, etc. The possibilities are endless.
It's recommended to always keep a handful of cards with you at all times. You never know who you'll run into or meet and how that person will impact your small business.
Tip: If your business is digitally-based, having eye-catching business cards still provides incredible marketing value. Try including a QR code that can direct customers directly to your online company.
Postcards
Postcards continue to be one of the most affordable and powerful marketing tools available. Usually, we only think of postcards as a single-page mailer for businesses.
But, businesses can actually use them in countless ways. Whether a business uses them for advertising a product, service, or business, postcards can also use them as thank you cards, restaurant menus, invitations, and announcements.
A postcard's advantage is that they're quick and easy to read. Since they are a cost-effective marketing tool, postcards can be used in a variety of ways.
Resource: How to Write the Best Customer Thank-You Notes
Additionally, you can use them as inserts when shipping a product to your customers, as a thank you for purchasing a product, use as a product information card, or a promotional coupon used for an upcoming order. Customers are more likely to reorder in the future, especially when you include a postcard with special offers.
Tip: You can also use them as mailers. Their unique size and stock quality make them stand out from standard mail.
40% of customers will try a new business after receiving a mail offer.
Resource: Reach customers with EDDM® Postcards
Stickers and Roll Labels
When was the last time you received a sticker when you received your favorite product? Probably not too long ago. It's become a popular trend. Everyone loves stickers! From coffee shops to shoe companies, they frequently place a sticker in the package. Not only is it an excellent sticker marketing strategy, but they build brand awareness.
Stickers are a great promotional tool for any business. By having a well-designed sticker, customers will usually display them on coolers, laptops, and other items to showcase their loyalty to your business and brand.
Sticker marketing is an inexpensive way to test an advertising campaign's elements, such as short taglines and logos. The compact sticker size helps you clarify what you're trying to communicate.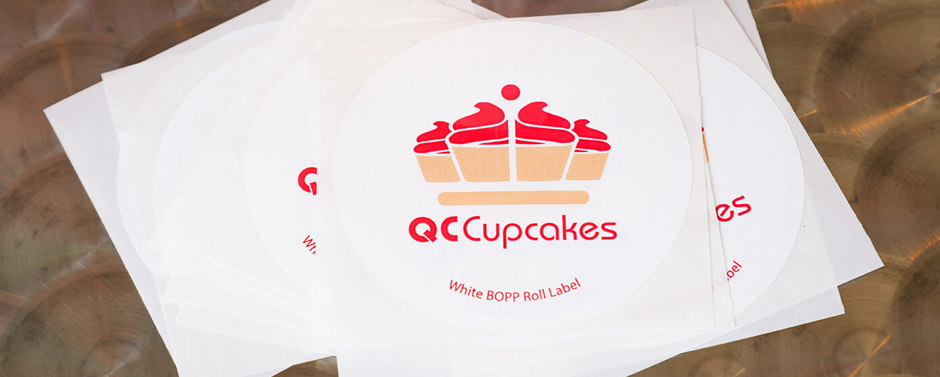 Not only are they great for marketing, but you can use them as gifts, stationery, candle labels, decoration, laptops, guerrilla marketing, or for showing support for your favorite cause or political candidate.
If you are searching for stickers in bulk, we suggest roll labels. Roll labels can be used as a means of easy branding for your packaging.
Business Letterhead
It's crucial that your company's print materials not only reflect your brand but display you as a reliable and trustworthy business. A business letterhead can accurately represent your business or organization. It also needs to act as your business's ID card, giving its readers a snapshot of all your company components.
Letterhead can be used as a "thank-you for meeting with me" note, a contract, a written proposal of services, an invoice, or any other form of communication that will distinguish you and your company from everyone else. There are plenty of benefits of using letterhead; improve business image, increase brand awareness, and more.
Printed Brochures
Whether it's a large or small business in a world driven by technology, they continue to use printed brochures. They can leave a lasting impression in the minds of the targeted audience.
A business brochure is a great print product to hand out to potential customers. They provide a large design space. This allows a business to include essential details, whether it's bulleted, a colorful graphic, or paragraphs.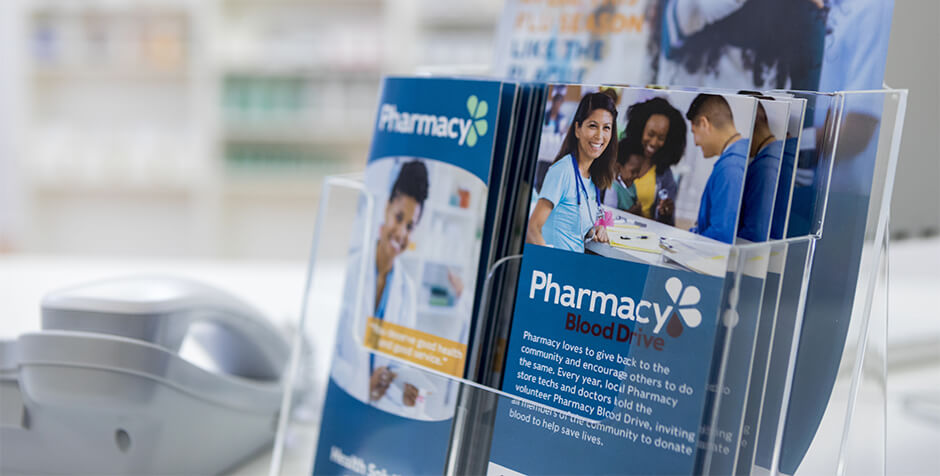 Brochures are used to highlight your business, product, service, and offer contact information such as email address and more. Your brochure is the opportunity to present your business story, allowing you to engage with your customers.
They can also be used while attending a tradeshow or conference. It has enough space to act as a sales pitch for your business—these great takeaways enable customers to grab and go quickly. Customers can take their time to peruse them and even refer back to them later.
76% of visitors picked up a brochure
Whether your business needs a Z-fold, Tri-fold, or Gatefold, you can select the right brochure fold option for your business needs.
Signage (Banners, Flags, etc.)
If you're running a retail operation or need the ultimate credibility of working from an office or other physical workspaces, you'd better come across as the professional you are. That means having the proper signage to identify your business name, showcase your corporate logo and graphic design elements, and remind visitors of who you are and what you do.
Large Format Printing
Along with the above products, a business may need additional products to highlight and showcase products and services. That's when large format printing comes in hand. Large format printing offers affordable and durable products, including banners, retractable banners, tabletops, backdrops, signs, flags, and more.
Generate sales and gain interest by using premium trade show displays and marketing supplies.
Some of this might seem old-school, particularly if you're accustomed to doing everything in a digital environment. Print materials are much more immediate than a website or email campaign.
Of course, you should also have a well-developed digital communications campaign, but let your strategic print presence support and supplement everything you do in an electronic environment.
There are plenty of printed marketing materials that can benefit your business. All businesses are different. Request your free sample pack today and see and feel our products. They will help you determine which is the best marketing materials for you and your business.