Now, we know that the color black is a powerful color. The color black is a great color for minimalist designs because it can match all or most colors. Black enhances the other colors in a design.
Along with our standard black business cards, we know you've been patiently waiting and now the time is here. We're excited to introduce black as our latest addition to our painted edge product line. Additional colors are available; pearlescent and standard.
If you are looking for that extra shimmer, pearlescent colors include Gold, Green, Blue, Pink, Orange, Purple, and Yellow.
The other standard colors include Red, Yellow, Blue, Brown, Purple, Turquoise, Orange, and Pink.
Make an Investment in Your Brand
All black is the route we've chosen for our brand, but these black edges look stunning with color printing and clean white backgrounds as well.

Like the rest of our painted edge products these cards are printed on thick 32PT uncoated stock and are available in quantities of 250 and 500.
Updating your business cards is an easily affordable way to bring new life to your brand. Our black painted edge cards are affordable and have an average production turnaround time of 2 – 4 business days.
Resource: 7 Helpful Tips for Your Next Business Card Design
Network in Style
It's important not only to have a high quality designed business card, but it must stand out. Your goal while attending a networking event is to get noticed, impress potential clients, and having black business cards are nothing short of impressive.
When asked if they judge a company by their business cards, 72% of people said yes.
Other Black Business Card Examples
What does the color black mean? It represents power, simplicity, mystery, elegance, authority, and sophistication. Black is traditional, yet never goes out of style. Black is appealing to younger audiences as well as high-end audiences.
Below is a black business card with silver stamped foil. You can take your card to the next level by adding a stamped foil to your design. Black stamped foil is available on our 14PT uncoated card stock. Gold-stamped foil is another color that truly "pops" off the business card.

If you are looking for an additional black business card that can turn heads and allow you and your business to get notices. We now offer Raised Stamped Foil. It enables you to take your marketing materials to a new height. We digitally print our Raised Foil on 19PT velvet laminated stock. They are also available with Gold Raised Foil and Holographic Raised Foil.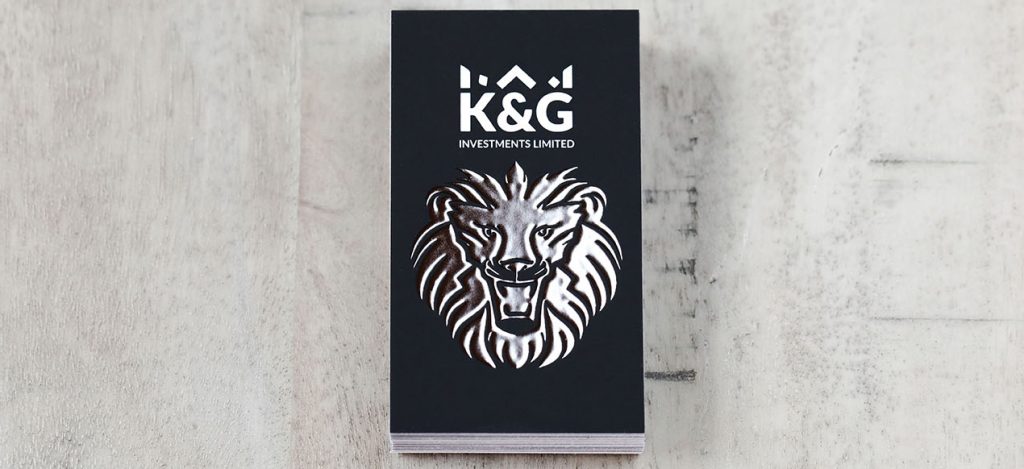 Take a look at purchasing black business cards. Not only are they unique, but your design will stand out!
We hope you're as excited about this product release as we are! If you would like assistance getting started, our design team is happy to help! It's time to make a bold statement!
We'll be happy to send you a free sample packet, so you can see and feel the products.